Employee-related organisational control
The different organisational units in the company are often controlled by several persons from various departments. Those persons may look at the organisation from quite different angles and act with diverse approaches.
What is the organisational structure of your company?
Companies are as unique as are the products and services they offer. While some of them are subdivided into divisions and departments, others are made up of organisation teams. In some industrial sectors the workforce is made up of constantly changing virtual project teams. And in many cases they have a mix of all possible variants, which can all be supported by admileo.
Who will need access to which details for organisational control?
While HR handles the applicant management and at the same time is in charge of the entire permanent staff, the project managers, for example, need to focus on the members of their project teams. Who manages and handles the services of external service providers? Advanced organisation software must be able to take account of all of these aspects, clearly present them in a uniform interface... and make them accessible.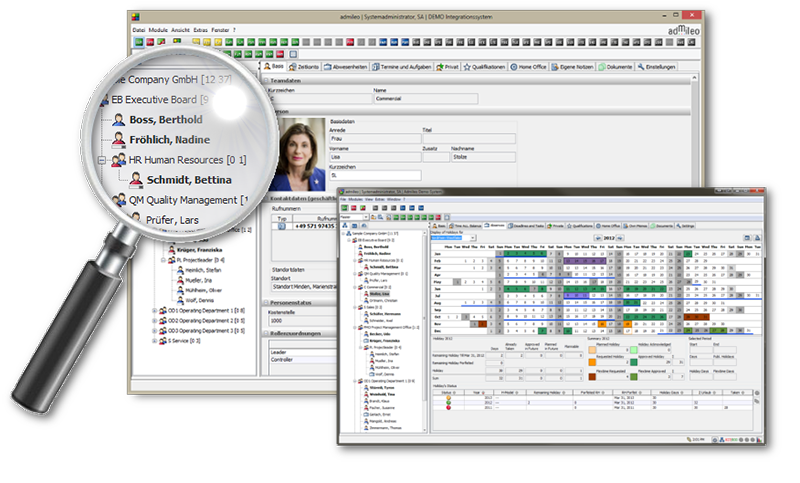 Objectives and aspects of the employee-related organisational control
The primary objective must, of course, be that the enterprise with all its organisation members is controlled such that the defined business objectives are reliably achieved. Today, this can only be achieved when using an intelligent software solution; such as admileo, which can map any conceivable case occurring in the control of an enterprise.
What will be needed in a case of reorganisation?
Companies that are subject to frequent reorganisations face further challenges when working with business software: How can we map a new structure as quickly and as uncomplicated as possible in our organisation software? What happens, when after a reorganisation I would like to access structures that are no longer up to date? For instance, in order to reconstruct - or even change - the cost centre assignments of a specific point in time? admileo supports the users in such cases, too, and allows calling up previous enterprise structures.